BORDER DRIVE HEATING MAXIM
The Maxim is designed for outdoor or even indoor use. Heated water from the Maxim is pumped to the home or building through insulated, underground ThermoPEX piping – the most efficient way to move heat over distances.
The Maxim is designed to work with any existing heating system. A heat exchanger or direct circulation conveys the heat into a forced-air furnace, radiant baseboard, or radiant floor heating system. This gives you normal thermostatic temperature control.
The Maxim can provide heat for all your domestic hot water by adding a water-to-water heat exchanger. You can turn off your hot water heater and save $30 to $80 or more per month!
In addition to heating an entire home or building, the same Maxim unit can also heat other buildings such as a garage, workshop, shed, greenhouse or barn. It can even heat a swimming pool or hot tub.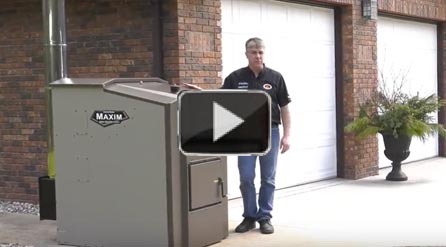 Maxim M255 PE – Specifications
---
The Maxim M255 PE is EPA Step 2 Certified.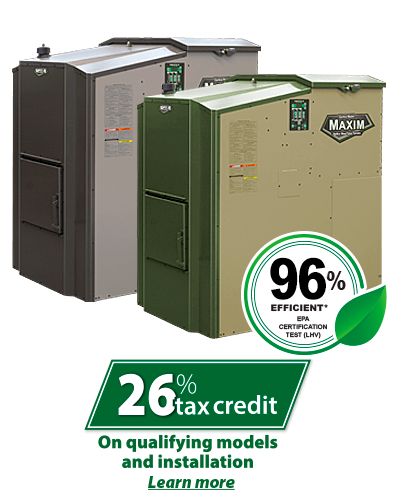 Overall Efficiency (LHV) – 96.2%*
Overall Efficiency (HHV) – 89.2%*

Manufacturer's Rated Heat Output Capacity** – 190,000 Btu/hr
Door – 15.5″W x 13.5″H
Weight – 1,310 lbs
Supply/Return Ports – 1 set of 1-1/4″ supply and return ports, 1 set of 3/4″ supply and return ports
Water Capacity – 90 gal.
Hopper Capacity – 11 Bushel (600 lbs)
Measurements and Foundation Dimensions – Illustration
Included with outdoor furnace – Water Test Kit, Cleaning Rod, Flue Brush Kit, Ground Rod Kit, Ash Scoop, Rain Cap and two 4-foot chimney sections
* Efficiencies are determined under the same test conditions using higher heating value, lower heating value and overall efficiency. **Based on EPA qualifying test.
COLOR OPTIONS
Color selections are close representations but are limited by processing and viewing conditions.


---
Features and Benefits
Freedom to do more – Tending an indoor wood pellet stove can be labor-intensive and require constant loading and maintenance. With a Maxim outdoor wood pellet furnace, you'll have more time to do the things you want to do because of the large integrated hopper and extended burn times.
Get in your comfort zone – Unlike indoor wood stoves that can only heat one room, the Maxim provides complete comfort. It uses your existing heating system to deliver the heat so you can set the thermostat where you want in different rooms. You can even heat other buildings like a garage.
Easy to operate – the FireStar combustion controller takes the guesswork out of operating (WATCH VIDEO).
Easy to maintain – the firebox design and heat exchanger system make for easy maintenance and cleaning.
Easy to install – installing your Maxim outdoor furnace is easier than you think. Many customers choose to install their own furnaces because the installation can easily be completed using the installation manual (WATCH VIDEO).
Save as much as 75% on current heating costs
ELECTRIC IGNITION saves fuel – when there is no call for heat the controller stops adding fuel and the fire goes out. When there is a call for heat, the controller automatically relights the fire if needed
Integrated hopper is easy to load and holds up to 12 bags of wood pellets
Heat for a week on a single fuel load or longer with an optional hopper
Heats

 

multiple buildings, pools, hot tubs and water with renewable wood pellets
Eliminates mess from inside

 

that indoor burning creates
Can be installed safely outdoors next to the building being heated
NOTE: Specifications are subject to change without notice.